From: Brent Meeker <meekerdb.domain.name.hidden>
Date: Mon, 12 Feb 2007 11:28:00 -0800
Bruno Marchal wrote:
>
> Le 11-févr.-07, à 18:50, Brent Meeker a écrit :
>
>> Bruno Marchal wrote:
>> ...
>>> Personally I believe that the mailing list would be formidably
>>> enhanced
>>> if we could use a simple pen for simple drawing. Just a pen. I mostly
>>> reason with simple images. And this is even more true about the
>>> quantum
>>> topological target which can be seen as an intermediate step between
>>> mind/matter and numbers.
>>>
>>> Bruno
>> I concur, a simple graphic can be very helpful. Why not scan in a
>> drawing and attach it as a jpeg. I often do that in physics
>> discussions.
>
>
> Well, first Wei Dai, the list master, has explicitly ask us, sometimes
> ago, not to send attachment. Nevertheless, he has tolerated apparently
> some sending of little attachment, I have already done. But 1) those
> who have no mailer capable of understanding HTML did not get the
> message, or when they got it, it was through many clicking. 2) the
> drawing appears with the personal message of Google, making the
> text+drawing less fluid. The idea of a pen is to be able to mix text
> and little drawing quickly in bot writing/drawing and reading.
>
> The one who will succeed in a standard commercializing of such an
> emailer with JUST ONE pen (NOT a pen + a brush + color etc.) will be
> rich. Thanks for crediting me with the idea, I will ask only 1% of the
> benefice :-)
>
> Those drawings can be deformed with the condition that the deformation
> concerves the topology (a vague circle should remain a vague circle,
> not becoming a curved line with extremities).
>
> Bruno
You don't need an emailer that understands HTML to look at an attached jpeg, like the one I attach to this. :-) On the avoid-l mailing list the rule is to keep attachements under 500kb. Perhaps Wei Dai would like to adopt a similar rule. Also, I would be pleased to see pictures of you and others I communicate with via this list.
Brent Meeker
--~--~---------~--~----~------------~-------~--~----~
You received this message because you are subscribed to the Google Groups "Everything List" group.
To post to this group, send email to everything-list.domain.name.hidden
To unsubscribe from this group, send email to everything-list-unsubscribe.domain.name.hidden
For more options, visit this group at
http://groups.google.com/group/everything-list?hl=en
-~----------~----~----~----~------~----~------~--~---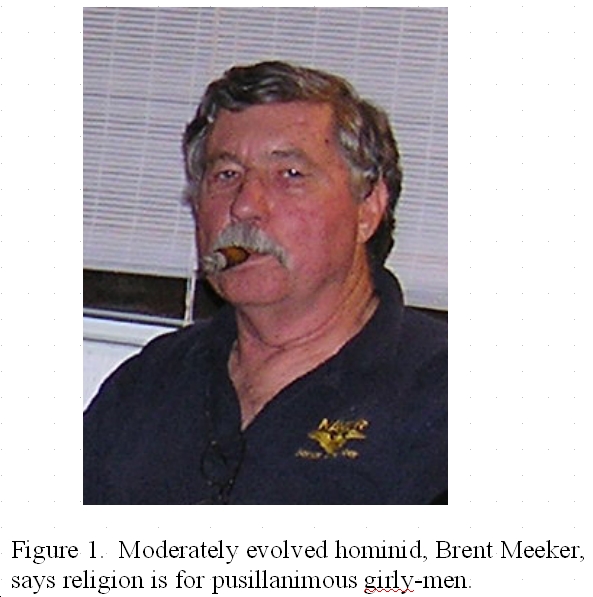 (image/jpeg attachment: evolved-hominid.jpg)
Received on Mon Feb 12 2007 - 14:28:23 PST
This archive was generated by hypermail 2.3.0 : Fri Feb 16 2018 - 13:20:13 PST